THE
PAGES
WITHIN
THE
CHIL
D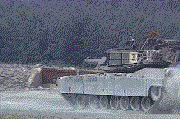 America was once again at war,

which meant that thousands of men, women, and children,

were being sent to someone else's country,

to fight someone else's battle ...

which would solve absolutely nothing,

except to lessen the world's overpopulated status,

and,

most likely,

to improve the economy.



In America .....

grandparents, wives, mothers,

daughters, sons, and girlfriends,

will worry if they will ever see

their loved ones again,

and their loved ones,

where ever they may be,

are wondering the same thing.



And then there are the lessons learned,

the lessons of war ... here and abroad.



Children become so much more a burden,

with fathers so very far away from home.


Some will be abandoned, some abused, some murdered.



Mothers must become family providers,

leaving the little ones to grow-up on their own.

And that is so very much worse

than the blind leading the blind!



THE LESSONS OF WAR ... HERE AND ABROAD.



And the children shall suffer the most.


Some shall become thieves of anything edible,

some will become molestees ... with or without pay,

even more will become child prostitutes,

yes, even the little boys ....

while others will become other types of victims

for the rest of their un-natural lives.



THESE ARE THE LESSONS OF WAR ... HERE AND ABROAD.



And our Fighters of Fredom shall become

HEROES, COWARDS, RAPISTS AND/OR MURDERES,

but most of all they will become,

each and every one of them,

A TOTAL MENTAL DISASTER AREA ...

returning home as strangers

with some-what familiar faces!


Each asking themselves,

over and over again,

for the rest of their lives,



HOW CAN HUMANITY BE SO INHUMANE?


HOW COULD I HAVE DONE WHAT I DID?


For they have witnessed the abominations of hell!

The grotesque torturings of other human beings,

the rapings of men, women, and children,

the murdering rampages of friend and foe ...

THE LESSONS OF WAR ... HERE AND ABROAD.



And at the bottom of their well,

where they squirm within the revelations,

the revelations of their own madness,

lay one single truth .....



WAR IS AN INSANE PIT OF DEPRAVITY


.....


SATAN'S MOST GLORIOUS BANQUET!






THE LESSONS OF WAR ... HERE AND ABROAD.



In some households, the youngest

may forget they even have a father,

if not reminded ... and reminded often.




In the meantime .....


Somewhere in the state of Idaho,

a young man is struggling to keep up the farm

by doing his father's chores, as well as his own.

Each day becomes harder and harder,

as he is forced to abandon

the rest of his childhood,

and the rest of his schooling,

so that the farm does not perish,

and so the younger ones don't starve.




Somewhere in the state of Louisiana,

a young boy is trying to make his father proud ...

by filling his daddy's shoes as the man of the house ...

and his mother is so proud of her little man,

but it takes more than tissues, and a little foot,

to fill the shoes of that manly someone


that may have already met his doom.




Somewhere in the state of California,

a teenage girl is hiding her fears,

as she wipes away her mother's tears ...


tears of loneliness, tears of despair.




And ... somewhere

in the state of Maine,

a young child has been left,

abandoned, in an orphanage,

by a working mom,

a prostitute ...

and that little boy,

though only five years old,

is fighting for his own survival .....




---
CHAPTER ONE ... THE PAGES WITHIN THE CHILD


ABANDONED IN THE WIDOW'S WEB

ENTER HERE



THIS SECTION OF MY SPECIAL PARADISE

IS UPDATED AS OFTEN AS POSSIBLE!



---
MY SPECIAL PARADISE

All Writings and ArtWork are listed as:
COPYRIGHT 1997 BY SHALENE
Thank You For Your Interest In
DEVASTATIONS


---



You Are Welcomed Visitor

to The Pages Within The Child


Since ReDesigned

ON

June 27th, 2006





---



Copyright 1968 - 2006 By Shalene-Billie Holmes

E-MAIL